HIGH PRESSURE - EUROPEAN TANNING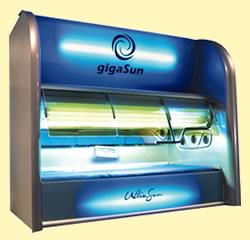 EUROPEAN TANNING, that's what you will experience in our salon. We offer 7 levels of european tanning. We offer two types of High Pressure beds. Our GigaSun bed is a "Combo" system that has High Pressure bulbs running the length of your body and high intensity bulbs for your sides. The GigaSun features a massage mattress providing full body length massage while you tan. The unit contains its very own air conditioning unit and aroma therapy. Our second High Pressure bed is a 100% High Pressure bed, contain only High Pressure bulbs, this bed also has a mattress and a powerful fan to keep you cool. It is a bed that emitts only one percent uvb wave and reminds you of laying out on the beach without dealing with the sand. This bed does not require the lid to be closed, so those who prefer not being closed in, this bed is for you.

High Pressure beds are ideal for all tanners, especially for type 2 skin types.

High Pressure Is The Smartest Way To Tan:
Our UltraSun Turbo emits less than 1% UVB, just enough to activate the release of melanin and almost 100% UVA for maximum oxidation to achieve a deep natural tan at a much lower risk of erythema or "overexposure". The UltraSun Turbo filters out the majority of UVB and maximizes UVA penetration into the first and second layers of your skin. For the most part, the outer layer of the skin exfoliates (sheds) every 28 days. When exposed to UVB, the skin exfoliates prematurely every 5-10 days. This is why conventional tanning requires more frequent sessions to maintain. The UltraSun Turbo with virtually all UVA allows your skin to return to its normal 28 day exfoliaton cycle.

A very common question is asked, " How Long Is Each Session?".
The UltraSun Turbo is 22,000 watts - You will tan 8 to 10 times faster than conventional systems. Each session is 24 minutes total tanning time on a comfortable and spacious mattress. Generally you will start at lower times and build up over time to the max session time.

First 12 minutes start on your back, flip and relax the remainder of the session on your tummy. The UltraSun Turbo is the ultimate tan and the experience feels just like your at the beach!

The Fastest Way to TAN!
It only takes 3-4 sessions the first 7-10 days depending on skin type. We help identify your skin's tanning potential and suggest a customized tanning routine for optimal results.

The Easiest Way To Maintain A Tan
After a base tan is established, you only need to tan in the UltraSun Turbo once every 10-14 days to maintain great color. It's eay and convenient to keep a beautiful golden tan.

Advancing Your Tanning
The UltraSun Turbo can boost the results of your current tanning routine. Thought you couldn't get past that tanning plateau...... A ratio of 1 High Intensity Tanning Session, (our SolarWind, Tower, Magnum) followed the next day or two by a session in the UltraSun Turbo will yield even deeper longer lasting results..

You will find many types of tanning beds being offered and represented as "High Pressure", if the tanning bed has High Pressure bulbs "only" above your face... it is not a "High Pressure bed". It may be at the very most a combo unit, but most often it is a low pressure bed with high intensity bulbs combined with high pressure facial bulbs.

High Pressure bed sessions are generally more expensive, so be sure you are getting what you think your paying for.

---
LOW PRESSURE EUROPEAN TANNING

We also offer low pressure beds that range from standard to very high intensity. Our SolarWind 5000 is our more popular unit, for it is larger, 43 high intensity bulbs and has 4 - 1,500 watt high pressure facial bulbs. This tanning bed delivers more than 13,000 watts of power. For those clients who prefer to stand our UltraSun Power Tower is amazing, it has 48 super powerful high intensity bulbs that help bring your tan on quickly. If your a tall person, then this tanning bed is for you. Our Magnum tanning beds are also high intensity and have bulb configurations as the SolarWind, just fewer bulbs, less wide and there is only 3 - 500 watt high pressure facials.

Our Sunburst and Sunrise tanning beds are equally excellent in tanning you. They are very popular for all skin types. We have the fantastic classic leg tanner. If you have ever wanted you legs to be as dark as the rest of you, then we have the answer for you.


---
YOUR BEAUTIFUL LEGS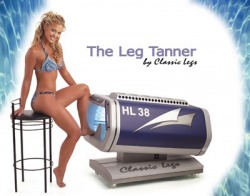 The Classic Legs Leg Tanner
is the first device of its kind. It is designed for clients who want beautiful tan legs but who, until now, had difficulty achieving this goal or for whose who wish to tan their legs only. Tanning beds generally tend to concentrate the majority of their light energy towards the middle of the tanning area. Because of this, it is nearly impossible for customers' legs to "catch up" with the tan on their more easily tanned faces and mid section. The leg Tanner provides a solution that will increase your overall satisfaction and opportunity to walk around with always beautiful and tanned legs. The leg tanner has 38 low pressure lamps each 65 watts. Special barriers are provided so that during your tanning session you can enjoy music and read your favorite book or magazine.


---
Our Ways You Can Tan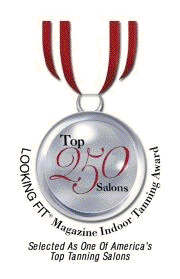 In our Tanning Salon we offer you choice. You can decide to purchase by sessions in groups of, one, three, seven, or ten. When you purchase by sessions they will not expire. Because we offer seven (7) levels of tanning plus our leg and sunless systems, we have many packages to choose from. Single sessions range from $6 and up. We also sell sessions in groups of 1,3, 7, 10. When you purchase them in groups the rates drop for greater savings to you and they will not expire.

Our Mystic Sunless Tanning is Single Session Level Two, just $25 or Level Three $30. We also sell sessions in groups of 1,3, 7, 10. When you purchase them in groups the rates drop for greater savings to you and they will not expire.

We offer 14 and 30 day Unlimited (once per day) plans. These do not require a contract, nor enrollment fees. Once the package is purchased your able to tan consecutively, either 14 or 30 days depending on plan purchased, after which the plan expires. This allows you to use your package once a day. The 14 day plans range from $28 to $85 and the 30 day plans are from $35 to $108.

We also have Our "As U Tan" plan that for a small member fee of $109,( "like what costco does") you will get preferred prices. You will only pay $5 per visit for level two beds and only $10 for level 3 and above. Sunless Tanning, regardless of level is $15. This plan is a year program and will expire 365 days after purchase.

We do offer One Year Memberships. These are one year contracts with a one time enrollment fee of $55. With these plans you can realize between 50 to 70 percent savings.

---
WE WANT YOU TO KNOW THE VIRTUES OF TANNING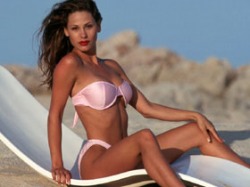 THE VIRTUES OF TANNING

Did You Know?

A tan occurs in the top layer of the skin called the epidermis which is comprised of keratinocytes and melanocytes, or pigment cells. Melanocytes produce melanosomes, which contain the pigment melanin, which is the "tan" we get when exposed natural (outdoor) sunlight or simulated (indoor) sunlight from tanning lamps.

We cannot tan without ultraviolet A (UVA) and ultraviolet B (UVB) light, either from the sun or from indoor tanning lamps. UVB light is responsible for stimulating melanin (color) granule production and causing the granules to travel upward towards the skin. UVA light is responsible for oxidizing the granules, once they have migrated to the skin's uppermost layer, turning them from a pinkish color to a darker, brownish color to create a golden brown tan.

Why do tanning times vary between salons?

The ultraviolet light output of different tanning units varies. The FDA adjusts its recommended exposure times according to the components used in the equipment and the time it takes that unit to tan people without causing sunburn.

Generally, the more intense the unit's output is, the less time a person may be exposed to it—and vice versa. And while the total output varies in different tanning units, no unit may exceed the maximum allowable output established by the FDA.

Why do you need to wear eyewear?

FAILURE TO USE PROTECTIVE EYEWEAR MAY RESULT IN SEVERE BURNS OR LONG-TERM INJURY TO THE EYES……Ultraviolet light normally does not cause immediate pain or discomfort, but can after your visit is over.

Unfortunately, a number of tanners still push eyewear aside, fearful that wearing them could create white rings around the eyes, often call "raccoon eyes," that sharply contrast with their tans. Some clients will try to use inferior eye protection that can be penetrated by ultraviolet light, such as sunglesses, towels, cotton balls or their eyelids.

This is particularly risky for people who have suffered from cataracts in the past. Raccoon eyes can be minimized by gently adjusting protective eyewear during tanning session.

Never lift eyewear off of your eyes to adjust their position!

Skin-Care and Tanning Lotions -- Why do clients need to use tanning lotions, and why the ones available in salons?

Whether your in the sunlight or under tanning lamps, ultraviolet rays tend to dry your skin out. The indoor tanning lotions offered in salons are specially-formulated for use with indoor tanning equipment. These specially bio-engineered lotions containing advanced ingredients counteract the drying effects of tanning on the skin, and help prepare skin to tan better and retain UV-induced melanin longer.

These lotions do not contain photosensitizers and, unlike many over-the-counter lotions, will not damage the acrylic in tanning beds.

Using salon available lotions makes good sense and the most effective use of your time under the tanning bed lights.

In summary:

Moisturizers always should be applied to skin after tanning or bathing to prevent dryness.

Special tanning lotions — with names such as "accelerators," "amplifiers," "maximizers" and "intensifiers" - contain state-of-the-art ingredients that help counter the drying effects of tanning, prepare the skin to tan more efficiently and make tans last longer. They are usually applied before a tanning session so the skin can absorb them.

Self-tanning lotions can be used to blend skin color between tanned and untanned body parts, particularly around the eyes. The lotions that you carry to the beach is not the same! In fact, the chemicals that manufacturers use in outdoor lotion will even damage indoor equipment.

Smart Outdoor Tanning Practices and Sun-tanning outdoors is obviously the most common path to getting a tan. It's natural, relatively "free", and certainly offers the added benefit of being outdoors.

However, there are some downsides to tanning outdoors.

First, it may be the most uncontrolled method of tanning. Even when sunscreen is applied, no one can be sure how strong the sun's rays are on any given day and whether the right sunscreen protection level is being used.

There may also be the inevitable mistakes: forgetting to reapply sunscreen after swimming,
staying out beyond the sunscreen's effective time limit, missing a spot when applying the sunscreen, running out of sunscreen or worse, thinking it's too hazy to get burned and not applying any sunscreen at all.

Another factor to consider is that the sun is simply unavailable for tanning to many people for much of the year (even in summer, it rains!).

When the sun is available, it is often not convenient to get to a beach, pool or lake.
It can also take a long time to get a tan outdoors, and usually requires more than one "sitting".

Finally, there is little control in gauging the amount of UV exposure one has received after spending a day in the sun.

La Stella encourages you to care for your skin when tanning outdoors by tanning moderation, applying a sunscreen and always avoiding over-exposure.

Why use a SPF lotion when tanning outdoors?

Tanners not only need to use a lotion when tanning outdoors, but for most skin types, it should be one with SPF (sun protection factor) protecting you from both UVA and UVB sun rays at 99%. Especially at the beginning of the season when the skin is most vulnerable.

These lotions help keep skin hydrated and help prevent sunburn by blocking some of the sun's intensity. La Stella offers a range of SPF lotions as well as special care for the face and lip balm. Caring for the skin after sun exposure is also important to help preserve the life of the tan and the supple appearance of the skin.

After sun lotion is recommended to continue the process of moisture replenishment and help soothe skin that may have been over-exposed.

Tanning Myths:

Myth: "I've heard that indoor tanning is more harmful than tanning outdoors because the UV light exposure is more intense".

Fact: People tanning indoors are exposed to a scientifically calibrated amount of UV light. When used according to the U.S. Food and Drug Administration's exposure guidelines (posted on each machine), tanning beds are designed to maximize tanning and minimize burning.

Conversely, tanning outdoors is an unregulated environment. There are many factors that have to be considered when you tan outdoors: geography, time of day, weather conditions, the seasons, and the ozone layer.

Remember the best way to safeguard yourself from sun damage is to wear appropriate levels of SPF sunscreens outdoors—even if you already have a tan. You should also know that, even with sunscreen protection, UV exposure can still lead to skin cancer and premature aging, even if you don't burn.

Myth: "My friend said she heard that tanning bakes your internal organs. Sometimes I notice a strange smell after I tan. Could this be my organs baking?"

Fact: The UV light from a sun bed is similar to UV light from the sun, and cannot penetrate deeper than the skin to harm internal organs. The odor you may notice is what's commonly known as the "after tan" odor, a common occurrence when tanning indoors or outdoors, which is caused by harmless bacteria.

Lotions available at La Stella contain the Biosaccharide Complex, which helps prevent after tan odor.

Myth: "I have been told from several of my friends that showing directly after tanning will "wash" your tan away. They say its best to wait about 3 hours after tanning to shower."

Fact: Taking a shower after tanning will not wash your tan away. A natural tan takes 24-48 hours to develop. The tanning process occurs within the epidermis when melanocyte cells are stimulated by ultraviolet light that causes them to produce melanin. Melanin production results in the tanned appearance of the skin and is the skin's natural defense against the sun and over-exposure, I.e. sun-burning. Melanin travels to the surface, where it eventually flakes off.

This process allows us to develop new skin every four to eight weeks. Keeping your skin hydrated and exfoliated will help maintain a more radiant and healthy-looking tan.

Myth: " I heard that in order to get a suntan you have to burn first"

Fact: A sunburn does not fade into a tan. A sunburn indicates over exposure to UV light and actually damages the skin, leaving it inflamed (as indicated by the skin's red coloring and sensitivity), dry, chapped and visibly unappealing.

In fact, a sunburn can lead to premature aging and potentially skin cancer. Always practice moderation when tanning and use the proper sunscreen protection when tanning outdoors and the proper exposure time that is recommended for your personal skin type when tanning indoors.

Myth: "All skin types tan or burn in the same amount of time"

Fact: Not all skin types are alike. Some people tan more easily than others or burn more easily than others.

For example, a Skin type 1 person with fair skin, red hair and freckles will burn easily, resulting in peeling and blistering without any indication that he or she has tanned. On the other hand, a Skin Type 4 person with dark hair and olive skin will tan very well and quite easily even with a minimal amount of sun exposure.

It is important to know: repeated exposure of unprotected skin while tanning may increase the risk of skin aging, skin cancer and harmful effects to the skin even if you don't burn.

Myth: "People with medium to dark skin never burn"

Fact: Although people with medium to darker skin tend to tan more easily than others, they can still get sunburns. They can also suffer from overexposure to UV light.

It is still important for these skin types to use sunscreens and avoid being in the sun longer than they need to be.

Did you know -- What are "sun spots," what causes them, and how can they be treated?"

Sun spots, is the name given to tiny areas dotting the shoulders and upper body that simply won't tan. This fairly common problem is caused by a microscopic fungus that falls from the scalp and leaves bleached areas on the skin.

While the condition is not dandruff, home remedies include extra-strength dandruff shampoos and a break from tanning until the areas begin developing melanin again.

Some manufacturers have also introduced lotions to help alleviate the spots.

Did you Know - The most common skin type in the United States is skin type III.

Skin type II persons are also common in tanning salons, benefiting from the controlled atmosphere of a tanning salon to minimize their risk of contracting a sunburn outdoors.

Skin type I is five to six times more prevalent in Europe and Australia, where ethnic backgrounds are less diverse.

Did you Know - What is rosacea (ro-ZA-she-ah), and how does it affect tanning?

Rosacea is a chronic acne-like condition that appears on the cheeks and nose as a reddish, irritated looking coloration. It is most often seen in skin types I and II as these people reach the 30' and 40s. Because sun exposure and hot weather are among the factors that trigger outbreaks, people with rosacea need to know this and weigh the decision to tan.

Covering the face while in the equipment, and then using a facial self-tanner might be a solution for some.

Staying completely away from tanning beds and using the Mystic UV-Free sunless spray on tan may be the best solution for this group of people.

Did you Know -

Studies of indoor tanners have shown consistently that indoor tanning clients, once they begin tanning in a professional salon, are up to 81 percent less likely to sunburn than they were before they started tanning. This does not mean, however, that these tanners should be completely free from worry of sunburn. Sunscreen should still be worn if the tanner will be out in the sun for an extended period of time.

Did you know - What does "photosensitizing" mean, and how does it pertain to indoor tanning?"

Photosensitizers are substances that can make skin extremely vulnerable to ultraviolet light. Photosensitizing agents can be drugs, cosmetics, foods and other items that are ingested, injected into the body or applied to the skin.

The exact effect of photosensitizers varies from person to person, everyone should frequently check medications for photosensitizing agents whenever they plan on tanning.

Did you Know - What is the biggest concern related to teens and tanning?

Although there is no data to show that tanning at an early age, or any age, is a risk factor, it is generally accepted that sunburn early in life is a risk factor for damage later in life, including possible onset of UV-related skin cancers. Teaching proper use of sunscreens, moderation and smart tanning will help lower any possible risks. It is especially important that these groups wear sunscreen in natural sunlight:

Persons under age 18 — young people receive up to 3 times as much sun exposure as adults per year, and a child's skin is more sensitive.

Persons with pale complexions — People with skin type I, in particular, need to ensure protection from burning.

People who "pre-tan" before a vacation — It's possible to sunburn even with a tan.

Sunscreen will protect from burning outdoors, which still letting a tan happen.

Did you Know - Sunlight is the fuel that enables your body to manufacture Vitamin D.

When you block out sunlight with sunscreens and head-to-toe clothing, you stop that supply of fuel and your body can't make enough vitamin D.

Why does this matter? The short answer is that the benefits of vitamin D on human health are many, varied and profound. Suffice it to say that in some respected medical circles, sunlight is being described as a "wonder drug". It can provide "immunity" against some of the most devastating diseases known, including heart attack, stroke, osteoporosis and certain types of the most deadly internal cancers.

People who spend time in the sun or on a tanning bed experience a blood pressure-lowering effect similar to that of standard medications. Sunlight has a beneficial effect on heart health equal to exercise. Then there's bone health. Sun exposure builds bone density, stronger bones.Vitamin D deficiency can lead to: bone diseases such as osteoporosis and osteomalacia. Vitamin D has been linked in playing a role in prevention of breast, colon and prostate cancers.


---