MANICURE & PEDICURES
MANICURE AND PEDICURE PROFESSIONAL - COURTNEY NGUYEN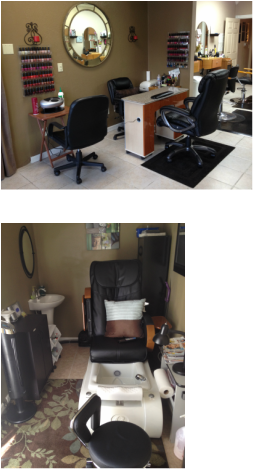 Courtney has been a manicurist for approximately twenty years. During this time she has provided excellent services and gained the opportunity to develop and refine her superior manicure and pedicure skills.

Courtney ensures that she stays up-to-date with the newest products and latest procedures and techniques so that her clients receive the best possible service and are able to receive the latest trends available in the industry.

Many of Courtney's clients appreciate the manicure area, but once the client has the opportunity to make their way to Courtney's pedicure room, the client find themselves in a private, quiet and comfortable environment. The professional pedicure spa chair Courtney provides is so comfy and relaxing that it is quite easy to drift off to sleep while Courtney provides them with the most gratifying pedicure they will experience.

Please call Courtney at 209.981.4116 to schedule your appointment.

---
Certified Massage Therapist
We have a highly skilled and talented Massage Therapist. Olivia. She offers the following Massage Treatments:

Swedish Massage: This type of massage relaxes your mind while improving circulation for the entire body. Uses a combination of strokes and pressure points for overall balance and relaxation. Cost is $45 for 30 minutes, $70 for 60 minutes and $110 for 90 minutes. Price subject to change, so call for current pricing.

Deep Tissue: This type of massage is one that provides exceptional relief of chronic muscle tension and highly effective for stress reduction. Utilizes point and deep muscle pressure. Cost is $85 for 60 minutes. Price subject to change, so call for current pricing

Pregnancy Massage: This type of massage enhances the function of muscle and joints, improves circulation and general body tone. Also relieves mental and physical fatigue for a higher level of wellness. Cost is $80 for 60 minutes. Price subject to change, so call for current pricing

Complexions Signature Massage: This type of massage has you enjoying aroma therapy while essential oils and hot towels are used to calm and relieve tension in your muscles while providing your mind with complete relaxation. Cost is $80 for 60 minutes and $120 for 90 minutes. Price subject to change, so call for current pricing